For reasons not worth boring you with, this week has been too long, too stressful and too crazy. But, it's over and I'm pretty glad it's finally the weekend. Here's to a fabulous weekend-before-Independence-Day. It's going to be a good one.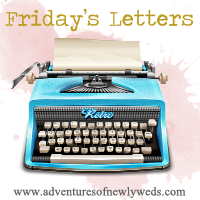 Dear closet, I'm pretty proud of you. I've needed a lot of cheering up this week and you've pulled yourself together to dress me bright and cheery. There's something to be said for a good outfit, a big smile and a desire to be positive. It really can pull you out of the dumps.
Dear Anne Arundel County Public Schools, not gonna lie. That bonus you gave us for working "in the trenches" of high need schools came at just the right time. Our soon-to-tie-the-knot relatives and friends thank you. Well, maybe not. They're probably shaking their heads furiously and cursing you because now they have 2 more mouths to feed at $150 per plate.  Either way, we're racking up those frequent flier miles!
Dear little Misher, Thanks for our little nap Wednesday afternoon on the couch. You are the best.
Dear hubcap, thank you for being amazing. And thank you for getting me properly drunk Tuesday night. And making me laugh… and laugh… and laugh… and fall dead asleep. It was just what I needed.
Dear mom and dad, I love you. And I realized this week that even though I'm 25 years old, you guys still know exactly how to calm me down, help me focus and turn my fears and worries into bravery and courage.
Dear arm party trend, I'm sorry for my unkind words last week. I still love you.
Actually, you are genius and I think you're pretty cool.
Dear weekend, Let's do this.