I feel like I shouldn't be doing Friday's Letters this week. This week was chalk full of what great blog posts are made of and I don't want to give it away. Then I realized that instead of giving anything away, I need to think of it this way: teasers!!!! Oh boy has this been an awesome week!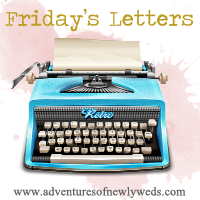 Dear Internet and 3G, We have a very unhealthy relationship. Apparently I cannot live without you. This is not good. I need to learn how to live off the grid. I vow to put my iphone away for 24 hours some day this week…..
Dear Lake Michigan cottage, You are still my favorite place in the entire world. I could break out in some "feels like home to me…" right about now. I'll be sad to leave again. Once a year isn't enough. P.S. Would you like me to paint your kitchen wall? Looks like you need it ;)
Dear Little Misher, I already miss you. We've never left you home alone this long and I hope you are doing okay. Take care of Mr. Baci. We'll be home before you know it.
Dear Mr. Baci, I miss you, too. But let's face it: you aren't as dependent upon me as a cuddle partner every night. We both know you are doing just fine.
Dear Amazing VW Jetta TDI engine, You keep going with your bad self and we'll keep loving you. 45 mpg from Annapolis to northern Michigan? Keep on rockin'….
Dear tiny little bat hanging out in mom's toilet this morning, You literally scared me $h!t13$$!!! You don't belong in the toilet…..
Dear Baldwin, Michigan, We will continue to stop at your one-light town for the world's best ice cream. Drooling yet?
Dear Northern Michigan, You have unbelievable sunsets. They are therapeutic, really.
Dear Readers, Get excited!!!! I have an AMAZING line up of guest bloggers coming your way this week! I can't wait to share them with you. :) 
Peace out, girl scouts!