So, after three failed painting attempts, I finally found a paint color I liked for our bathroom. It's darker and bluer than I thought I wanted, but I'm liking it way more than my original ideas. Thank you, Restoration Hardware for having the best colors (in this case: Gravel). Thank you, Sherwin Williams, for matching said colors for half the price (in this case: Steely Gray). Now, a word of advice: don't paint a bathroom after a long weekend of partying. Unless you want to increase your headache with paint fumes…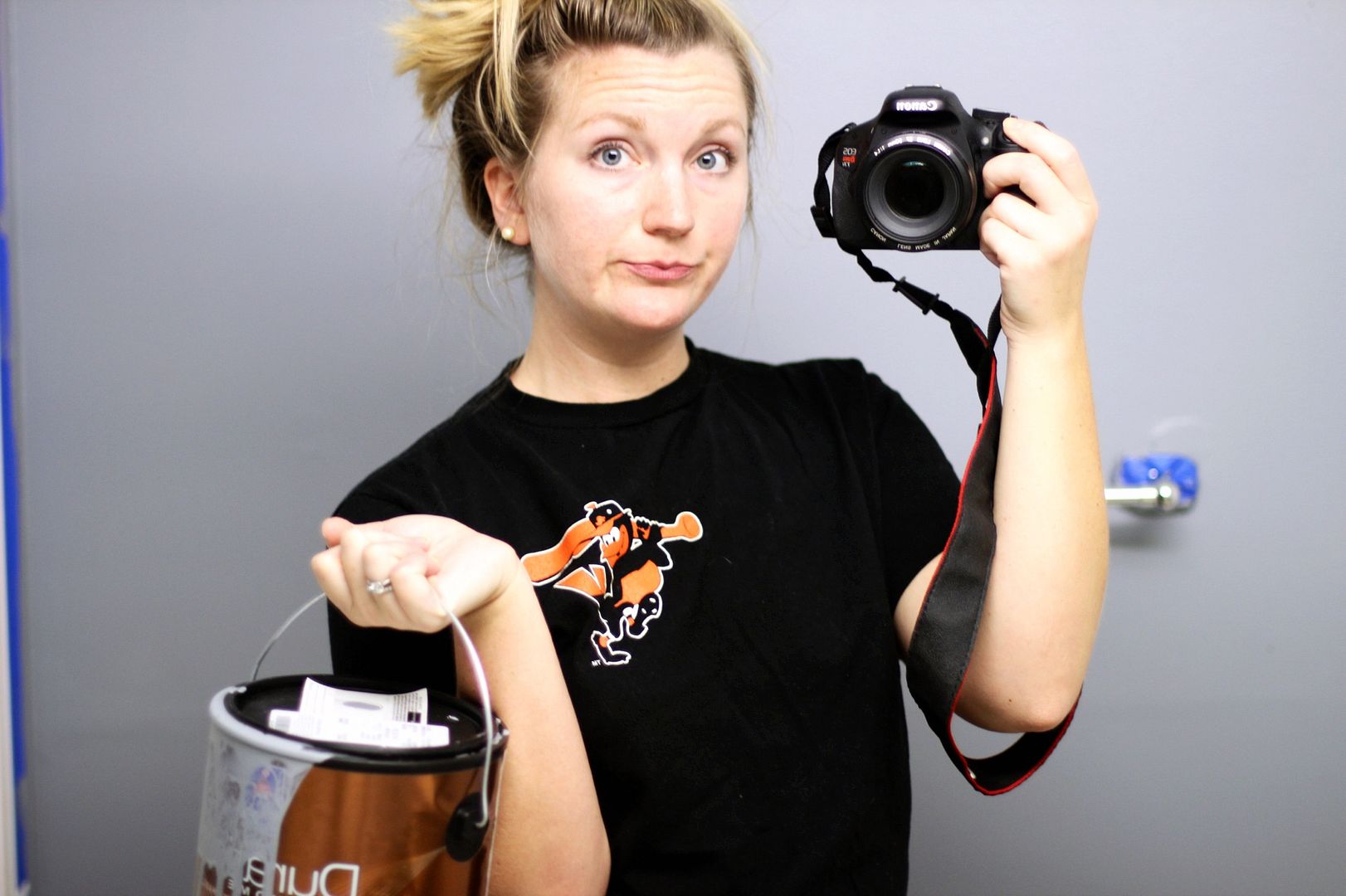 reading The American Heiress, which was recommended to me when I mentioned being in a Downton Abbey funk. It's alright. It reads like a young adult novel with particularly terrible writing, but the story is entertaining enough. I'll keep reading.

listening the television on in the living room. Alex found this show about extreme treehouses and he's hooked. I kind of like it, too.
smelling air conditioning. Although I would love it if Mother Nature would pretty please make it cool enough that I can smell the outdoors without melting to death. That would be lovely.
loving the surprise party we threw for my best friend, Katie, who just came home from a year in Afghanistan. What I'm not loving? The hangover. Turns out we really are closer to 30 than to college… whew. How did we do that?
thinking that it would be rather nice to have another long weekend. Even though I only worked four days this past week, they were incredibly busy and very long. I guess that's what happens when you have three major projects simultaneously on your plate. I earned this weekend, that's for sure.
needing to get back into a blogging routine. Please refer above to that statement about having three major projects simultaneously. To be honest, the last thing I've wanted to do most of the time these past weeks is blog. I'm currently spending all of my time at work on blogging projects and I've been anti-computer in my spare time. But, I miss this little place. I'm coming back.
wanting somebody to come in and throw a fresh coat of pain on the trim around our house. Painting the bathroom this week made me realize just how dingy the trim looks. And I'm not about to tackle that project. No way.
wishing I hadn't completely ruined my healthy eating/ disciplined workout schedule this weekend. Whew. I did a number in that department. But, you know, welcoming your friend back to American after wayyyyyyy too long is worthy of endless carbs and a few too many drinks. Right?

hoping the little grocery fairies will flutter over to the store for me tonight because I'm not leaving this house and the fridge is nearly empty.

feeling hmmmmm. I think I touched on this already. The term is hung-over. (Insert groaning sad face here.)

wearing an old Orioles tee and my soccer shorts from way back in high school. Love those things. And my O's.

writing posts. No, seriously. That's my plan for this evening. Blog posts. I promise.
clicking all over Bloglovin. I am going to be honest- I'm way behind on all of your blogs. I vow to catch myself up this week. This is the truth. :)

You can see all of the Sunday Currently posts here. And you can go link up with Lauren here.