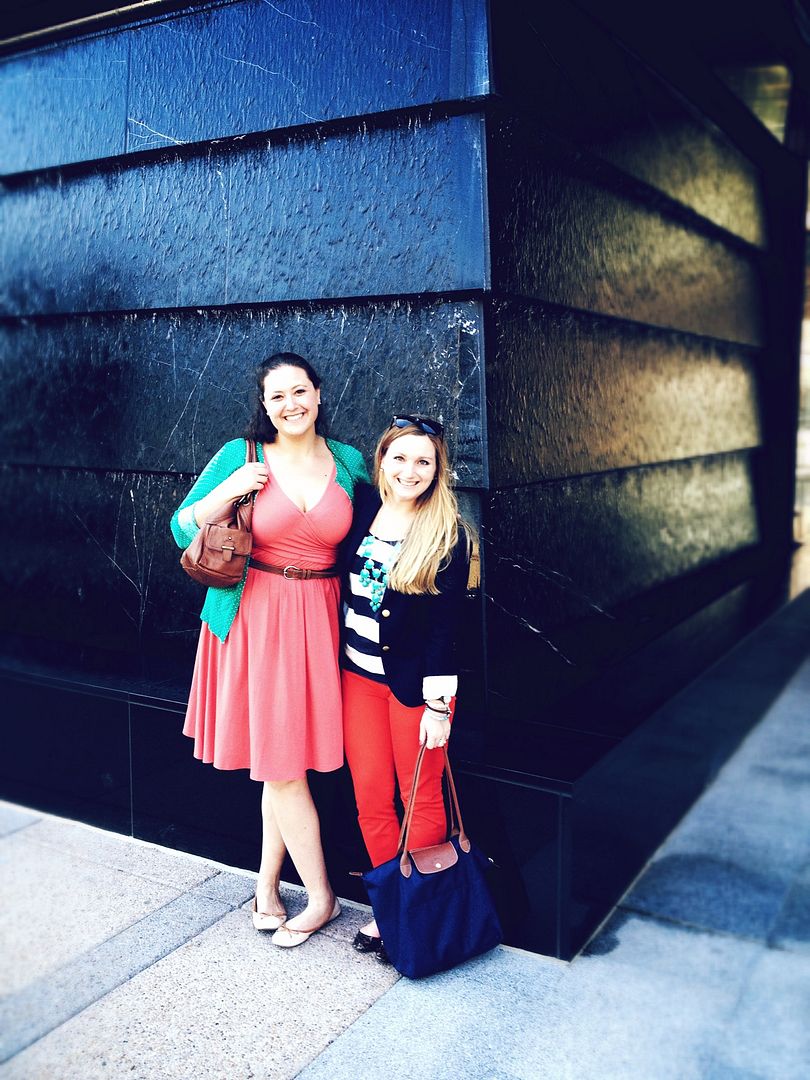 I almost feel rude calling it just a blate. Goodness. Let's call it what it is. On Saturday I spent the afternoon with an awesome, new friend.
I think I've mentioned this before. I didn't ever expect, nor particularly care, to foster friendships through blogging. Maybe I was too egocentric? I don't know. I kind of didn't think much past the whole "I need an outlet to write" part of the plan. But I've "met" (and really met) some amazing friends in blogland. And now… well, regardless of how much I love using this as an outlet to write, it's really all of you that make it worth my time each day. 
My blate with Betsy was far too short. In fact, we probably could've had an old school sleepover (complete with the pj's and face masks and all) and still it would've been too short. Isn't that how it is with friends, though? It's always a bummer when the time's up.
So Alex and I do this part time job (that really is cooler and way more fun than our full time jobs) where we select teachers to join an alternative route program to teach in DC. We interview on Saturdays and it leaves us in DC for the rest of the day or evening. Usually we just call it a date and hit up our usual (Matchbox…. go there now). But recently it dawned on me that Betsy and I probably have enough in common to keep the conversation going well past the socially appropriate length of a Disqus feed. So we set ourselves up a little blate!
We met over at Union Market, which is probably the best hidden gem I've (errr, Betsy) found in DC this far. We ate awesome food, devoured some local ice cream, and caught up on life. You know, the important stuff. Alex was there, too. He held his own. Poor kid, stuck with two bloggers all afternoon. Whatever, I told him he could drive himself home. But Betsy's everything you would expect from her blog and then some. You know, the kind of friend you meet and think, why haven't we met sooner? And, oh, Jon sounds pretty awesome, too!
This is where you realize that this post is more of a tease than a recap. I figured if I tried to fit Union Market in with Betsy in one post, I couldn't do both justice.
After dropping Betsy back off at home, I had this major aha moment on the beltway realizing that this is all so silly. We live less than thirty minutes from each other (well, maybe not in rush hour), and at a certain point you have to realize that the whole reason we're here, building friendships and putting in all of this time, is because it is the real deal. We might not ever meet, or if we do, it's possibly no more than a few times or maybe even once if we're lucky. So what? Some of the conversations I've had through blogging I wouldn't dare begin with the majority of my "real life" friends. And the connections, visions, beliefs… all of this stuff on how we see the world, well, if we're going to leave it at "oh, this blogger thinks the same as me"… hello? I would die to have all of you as my next door neighbors!
I guess what I'm getting at in a ridiculously roundabout way is that Betsy and I practically are neighbors. And that certainly won't be the last time we meet up. But next time, I'm not calling it a blate.
I'll just be meeting up with one of my friends.