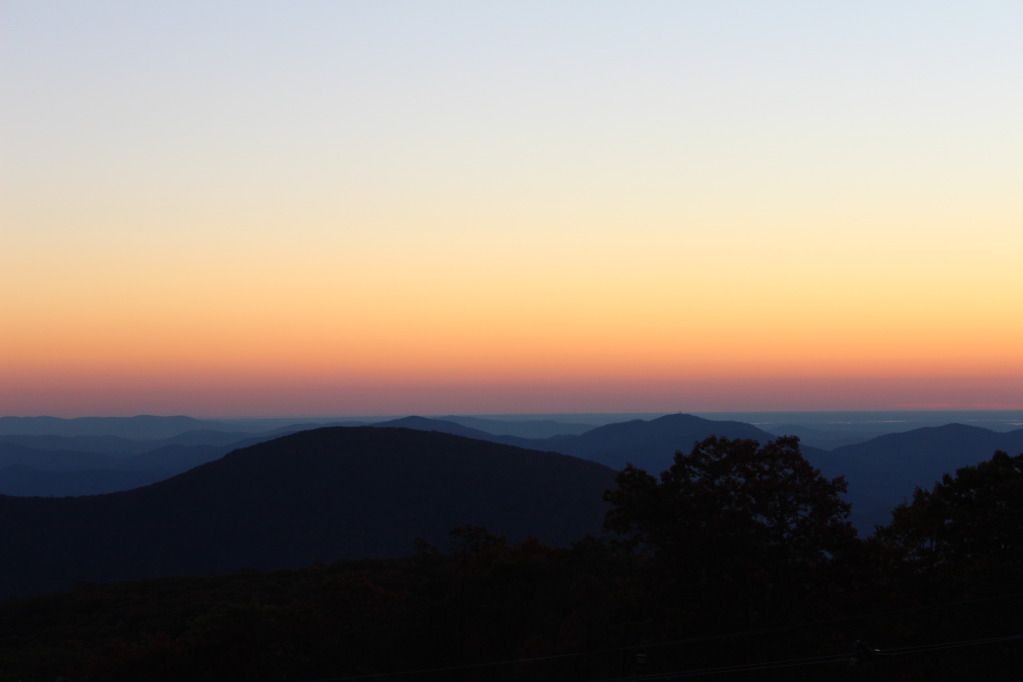 (sunrise from the balcony of our condo at Wintergreen in the Blue Ridge Mountains, the morning of our 1 year anniversary)
Monday night I visited Roger. Roger spends ninety minutes with just me, working out my problems and helping me relax. He's a big guy, in all senses of the word. And get him talking about cars and you will be given a wealth of valuable information of all sorts- whether you need it or not. So it's strange when you first meet him, this giant ex-mechanic, to realize that he will be your deep tissue massage therapist for the next hour and a half.
But Roger and I have developed quite a bond. I trust him. He can work the knots out of my neck and back in ways that I only dreamed of with other massage therapists. So I drive past over a dozen spas and Massage Envy chains to visit Roger once a month. When you find someone you really trust, you will travel the distance to visit them.
But this isn't about Roger. This is about Alex. So let's begin again.
Monday night I visited Roger. I've been extremely overwhelmed with responsibilities lately and this massage was desperately needed. You see, when I'm overwhelmed with responsibilities, I neglect those responsibilities that stay at home. You know, the ones that the general public doesn't know about. The dishes. The laundry. The cat litter. Making the bed.
One thing you must know- this is very, very stressful for me. So much so that I nearly canceled my appointment with Roger because I felt guilty not staying home to clean. You see? My anxiety levels and stress levels just multiply because I cannot function in a messy, dirty environment.
I returned home that night to a completely different home. It was immaculate. The candles were burning, everything was in its place, and my laundry was even put away… correctly.
Coming home to see that Alex had been ruthlessly picking up all of my neglected pieces and putting them back together did more for my stresses than Roger's deep tissue techniques.
And this is because Acts of Service stands alone as my single my love language. And seeing as it is not Alex's natural love language, Monday night doesn't happen often.
It should be no surprise, given that opposites attract, that Alex and I speak completely different love languages. Do you know the 5 languages of love? You need to. But more important than knowing what language we speak, is knowing that we naturally show our love to one another the way we wish to be shown in return. And it's hard to remember that it may not be reciprocated in the same light.
The simple golden rule, friends. Gone wrong.
Alex doesn't care so much about servitude. But, would you believe it, I'm so quick to make him dinner, clean the house for him, and pay the bills before he even knows they came in. And as much as he appreciates these, they don't mean the same to him. That is because Alex's love language is Physical Touch. And it's hard for me to remember this.
Every time I scratch his back, give him a head rub, a random kiss for no reason…. this is what lets him know I love him. I have to think about it. Because those actions don't mean anything big to me.
But I need to do it more often, I think. Because it's been days since the events of Monday night, but I am still returning to them in my mind every time I begin to feel overwhelmed. Each moment this week that I've began to stress, feel my anxiety rising, and start to cave in with an overwhelming sense of my crazy, busy life, I've revisited Alex's loving surprise.
It, honestly without over exaggerating, was the most loved I have felt in a long time. I really do owe him a back rub.
To see all of my Love Notes, click here and enjoy.
P.S. Have you entered The Sisterhood's Handmade Fall Giveaway???