IT'S FRIDAY! Not only Friday, but a no-work Friday over here! It's looking like a great 3 day weekend!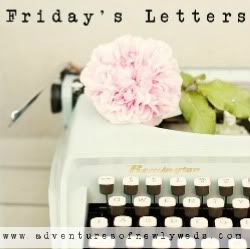 Dear Hubcap, I love you because you go to three stores looking for Octoberfest, find it, and buy them out because Sam Adams is done with it for the year. 
Dear Pre-K friends, You are ridiculous. You speak English (a little) now. But I'm still either "Byland" or "Mister Byland". I'm going to begin pulling small groups to teach you how to properly say "Mrs. Byland". Yikes.
Dear Anne Arundel County Public Schools, Thank you for giving us our wedding day off last year. And thank you for giving us a long weekend for our anniversary this year. We know you did it jussstttt for us. ;)
Dear Renaissance Festival, Turkey legs aren't good. I'm disappointed  Now that I eat meat, I had high expectations. You let me down.
Dear Alex, One year ago, you were the best groom ever. You don't make a bad husband, either.
Dear Sara, Katie, Erin, Ariel and Stephanie, Thank you for putting up with me last year. You were the best bridesmaids ever. I had so much fun with you. And you don't make too bad of friends, either. ;) I love you. 
Dear our entire wedding party, You were awesome. To this day, my favorite memory of the wedding was sneaking downstairs to the cellar and passing the Gentleman's Jack around while everyone was upstairs enjoying the reception. Thanks for that.
Dear Jodi & Kurt, We've said it before, we'll say it again. You are the world's best wedding photogs. Thanks for that!
Dear Readers, Thank you for indulging me this week with all of my wedding memories. We're off to celebrate our anniversary tomorrow. That way this blog can get back to normal.