And we call this week "the week that went by like a bolt of lightening"…..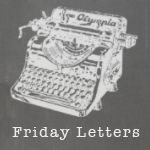 Dear weather, You've been AHHHMAZING! And I caught myself saying, at recess… out loud, "I married Alex on a perfect fall day like this"…. Keep the colder weather coming this way, please!
Dear Kitchen, I've kept you busy. I've never liked you. You don't have a window, you lack counter space and whoever planned your layout never, ever cooked before in their life. But, it was great to spend some quality time with you this week.
Dear Golds Gym, So we meet again at 5am. I forgot all of the reasons that this is my favorite time to workout. I've been a different person since we've reignited our pre-dawn romance. ;)
Dear Husband, I'm glad we took our relationship to the next level… Errr, I mean, spending time together before we go to work. I'm liking it. A lot. And I know it's hard for you, not being a morning person and all. So…. thanks!
Dear Brandy, You are the reason my apple pie turned out PERRRFECT!!!!
Dear loved ones so fortunate as to be receiving a gift next week, I was thinking of you. I love you. Try not to eat them all in one sitting….
Dear Readers, Are you hungry? Me too. Sorry about that. If you are ever in the area, stop by! I'm always looking for a reason to make Alex do the dishes. :)
And, oh, HAVE A GREAT WEEKEND!