Did you get a chance to run outside and look up at the sky to see this week just fllyyyyyy by? Yea, me neither. Happy Friday!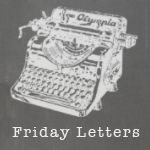 Dear Me, Boy am I proud of you for not running straight out of the dentist's office when he said "Okay, now my assitant is going to come in and separate your tooth from your gums and prepare it for the impression." Yes, it h-u-r-t like a 4 letter word. But you were so brave, sitting in that chair, white knuckled and kicking your feet as if that would stifle the pain. You get a giant sticker (mainly because sticky, icky lolipops and temporary crowns don't really go together that well).
Dear Mommy Dearest, Thank you for coming down for my birthday month! I loved seeing you and thanks for alllllll the help, too! What a surprise and how awesome was it to have a home cooked meal from you in my very own kitchen! And thanks for all of the other help around the house, too! You can come visit whenever you want, hehe!
Dear Daddy Dearest, Betcha didn't think you'd be nursing me back from illness this late in life…. Thanks so much for saving my life by running over an old rX of narcotics and migraine medication the other night. Drugs can do powerful things….
Dear Hubcap, This week I've realized that you say "I love you" more than I do. I hope you know I love you just as much as the many times you tell me. It's just that, sometimes, when you tell me, I'm asleep. And words just don't come out as easily. But, I love you, too.
Dear Pre-K, GET IT TOGETHER. Oh my goodness. You are a tough group. Whew. It's going to be a long year, but you are doing a real fine job of making sure I never forget you, that's for sure!
Dear Phuongnhu, YOU ARE GETTING MARRIED!!!!! JUST ONE WEEK!!!! AHHH!!!! SEE YOU SOON! YOU ARE GOING TO MAKE THE MOST BEAUTIFUL BRIDE!!!!! (I'm not excited or anything….)
Dear Texas, Keep those temperatures dropping and the BBQ grilling. I'll be seeing you on Tuesday.
Dear Readers, Oh, oh, oh! New post to the lineup!!! Get excited! I've got a little something something coming your way on SUNDAY! Sunday, you say? As in, the weekend?!?! I know, it's not really something I do. That's why I thought I'd warn you now. Check back on Sunday… I'm going to provide you with your Sunday morning coffeetime reading. In all honesty, it's totally not that exciting.
But, either way…. Baci has a message for you:
Peace Out, Girl Scouts.