It is Friday, my loves! If you had a week like mine, Friday came 6 days too late. Here's to the weekend!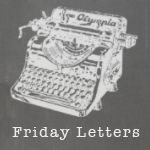 Dear new readers, Welcome! I hope you find yourself at home here on Like Ordinary Life. Don't be shy! I love making new friends. So consider yourself a friend. Just, whatever you do, don't read this post…… 
Dear Mother Nature, Thank you for finally giving me a long stretch of humidity free warm (but not hot) weather! You're only 3 months late! Where have you been all summer?
Dear Patio, Yes. I am aware I've neglected you all summer. But see the letter above? Yeah. Someone forced me to stay in the air conditioning all summer and their initials may or may not be M.N. Either way, gosh, I missed you. We've got some great weeks ahead of us. I know blogging is your favorite hobby!
Dear Essie, Your new fall line of nail polish is pretty sweet. Like I needed another reason to buy nail polish….
Dear polka dots, Ummmmmm. I accidentally fell in love with you this season. But, I have to let you know, this doesn't mean you can replace nautical stripes as my one true love. Sorry. I hope you understand. It doesn't change the fact that I wore you twice this week:
Dear Summer, One last picture for memories sake. Say cheeeeessssseeeee! (P.S. That is my baby sister. She is going to absolutely love me for this picture!)
Okay. Off you go now. For real this time. 'Tis the season for pumpkin spiced lattes, apple pies, football, my birthday (eeks!), our wedding anniversary (double eeks!), and last but certainly not least….. my homemade chili. 
Bring. It. On.
(Oh, and there's still a few gently used clothes up for grabs. They are looking for loving homes.)