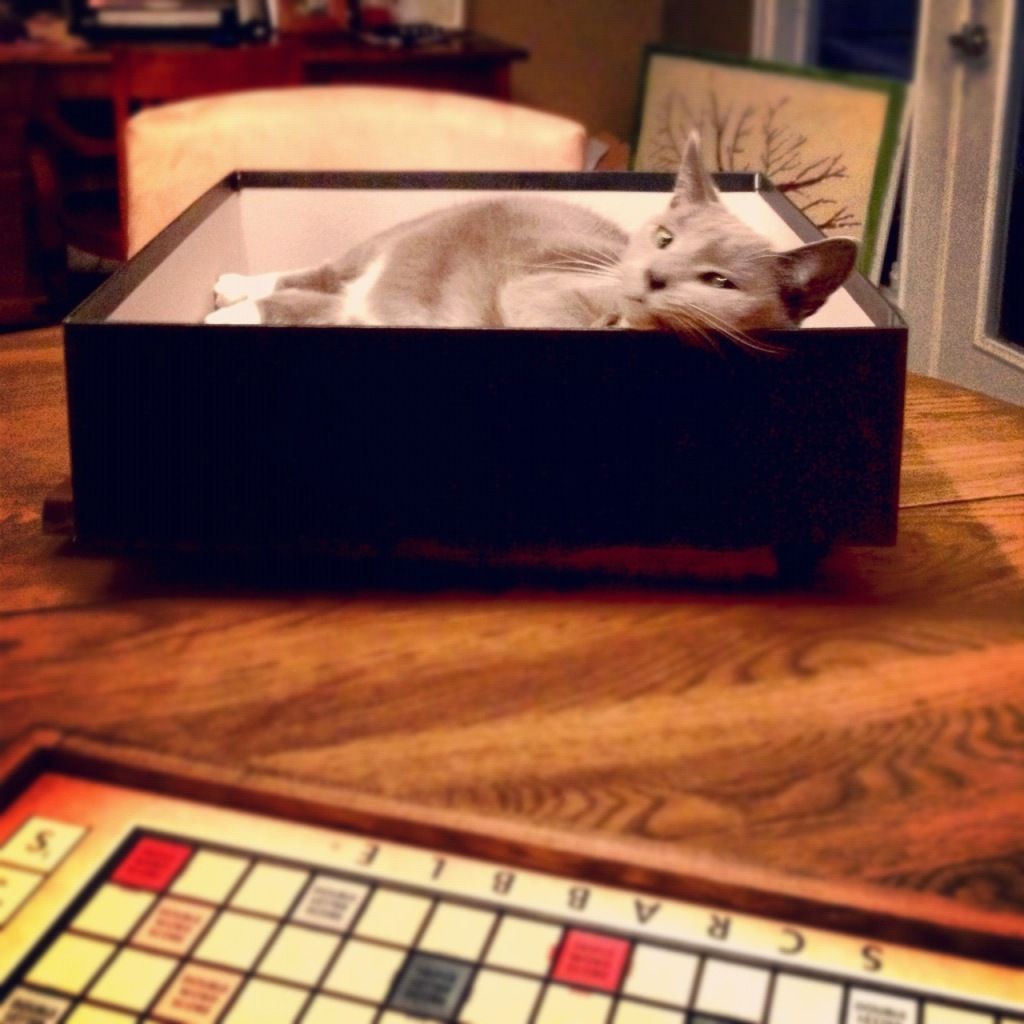 We own a cookie cut townhouse that resembles pretty much any and all construction completed in the late 1960's/ early 1970's. It's previous owners added features such as crown and chair molding and updated appliances. We added hardwood floors, fresh paint and a few aesthetics of our own. But, behind the Duration Sherwin Williams paint, Arhaus arts & crafts furniture and generations of family pictures, it's really no more than boxed-in room after room.
This is dangerous for a marriage. Walk in the door, and there you are. Couch, ottoman, 47-inch television and 2 furballs ready to snuggle. Every movement in our house begins and ends in our living room. Some days it can be really hard to make it to the back of the house, where our dining room waits patiently for a purpose other than "laundry folding room".
So our best friends & next door neighbors, Bill and Brie (from Recipe for a Beautiful Life, go visit her and say hello, don't be shy), gave us this amazing wedding gift last year. Scrabble. Mmhmmm. I said that. By golly do I love my Le Creuset, All Clad, Pottery Barn dinnerware- oh the list goes on and on! But Scrabble is our favorite wedding gift. Here's why.
Scrabble keeps our marriage fresh. Every Wednesday we have date night. We forbid our exhausted selves from setting foot in that front living room. The computer stays shut down and we let the DVR do the TV watching for the evening. The cats keep the couch warm while we walk the 30 steps to the back of the house. To play Scrabble and have dinner at the table.
I'll have you know, this is our favorite night of the week. CSNY, Van Morrison, David Gray, Jason Mraz and Jamie Cullum fill the air with their rich melodies and set the mood with their romantic lyrics. We polish off a bottle of our finest red and argue about the wasteful use of the letter "S" on the Scrabble board. Baci plays in the empty game box. Misha sits on my lap. We are a family.
Wednesday nights are invaluable to our marriage. The dining room provides the backdrop for what could really be any lounge or cafe that we'd otherwise drop $100 on dinner and wine for a date night out. This is still a proper date. I keep my jewelry on, freshen up my make-up and surely wear something cute. Alex may loosen his belt, but it stays on, his shirt tucked in. We don't do the dishes, either. We save them for Thursday morning. The night is just about spending time as us.
I'm no expert in the marriage department. Eleven months in, we're honestly learning as we go. But one thing I can stand behind is this: look reaalllly hard and you can find the word rut in routine. If you don't find a time besides the weekend to reconnect, you'll find you are missing one another's company. Even if you're sitting right next to each other on the couch. Scrabble works for us. As does Wednesday night.
Love doesn't prioritize itself. That's what being a couple is about- the making it a priority part. After all, we've gotta be crazy to spend our lives with someone if we don't want to put in the effort to make it work. That's your best friend, right there, after all! So go out there and make it work!  Happy date night!
*Filed under Married Life and Social Life *