Onze. Since 9th grade, I've read the number 11 in French. So here we are… 11 weeks later. Ashley isn't writing letters this week, but that doesn't change my 11 week old habit. So, without further adieu, Happy Friday!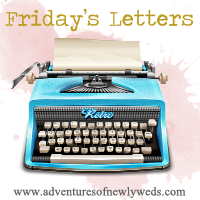 Dear Bozo, I really loved having you back home this summer. Right now you are flying to the Middle East. Best friends shouldn't have to be halfway across the world… again. Be safe there this year. I can't WAIT until your R&R in March. Buy rugs. And diamonds. Lots of them. ;) Meanwhile, I'll send you verbosely obnoxious email updates on the mundane topics that make up my life. You'll love it.
Dear Lilly Pulitzer Sale, Understanding that I saved 213 gazillion dollars on my purchases, your absurd technical errors were still completely planned and this is why I know: I was so frantic that I would lose everything in my shopping tote that I just kept making purchases- without really thinking about what I was buying. It was a race! And you won. Because I ended up with 3 shirts, 2 dresses, 1 scarf, 1 pair of shorts and a pair of earrings. And all I was supposed to get was a scarf and a dress. You don't fool me. ;) (thanks for the cute ornaments, though!)
Dear my new pre-k munchkins, You can't read this letter. In fact, even if I read it aloud to you, you wouldn't understand it because you speak Spanish. But, here I go anyway. You've already managed to make me laugh uncontrollably, smile great and wide, roll my eyes and groan, and come home ex-haus-ted at night. And it's only our 2nd day together. I'm so completely ready for year #4!
Dear lesson planning, I'm not as excited for you. Nope. Sorry. Necessary evil, that you are.
Dear Hubcap, Next time you take the Megabus to up to New York for the weekend, I'm going to just assume you'll be back 3 hours later than expected. It will save me from turning the car around every time I get a "You may want to wait a little bit longer" text from you. And save me from looking super excited to drive up to the bus stop. Yeup. That's me. Super excited….
Dear Summer, We've had our ups and downs. Tan days and not-so-tan days (reference picture above). But I'm beating a dead horse. I'll skip the whole I can't wait until autumn comes bit and I'll move straight to the sentimental side. You were definitely one of the most memorable summers I've had to date. And with that, why don't you leave. Summers, like fish and company, go bad after 3 days. 
Dear Readers, Have a FABULOUS Labor Day weekend, wherever you are. Run along now.