Ten!?!?! Gah! Ten more times and we've got ourselves a hundredth letter. I'm ditching my thoughts on renaming these weekly posts. Today, we've traded 10 pennies in for a dime. Or, two nickels in for a dime. (If you knew how I counted with my pre-kinder's to 100, you'd understand this analogy).
Anywho……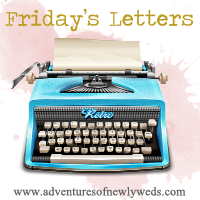 Dear Husband, You and me, we think alike. Those subtle hints in the form of Octoberfest brewskies and Hokie colored flowers are going to make autumn come much quicker. I can tell.
Dear Michigan, It's been 2 weeks and I am experiencing serious withdrawal symptoms. We'll have to rendezvous this winter, I believe. Mmmmkay?
Dear Sunday Super Clean Event, The house looks pretty fab. I am so glad I took a day to deep clean… The best benefit? My jewelry is no longer scattered around in every room. So that is what this big box I got last Christmas is for….
Dear 2012/2013 School Year, I'm ready for a new set of pint sized loves. I mean, you saw the Count to 100's analogy above, right? But, seriously, I'm pretty excited to get back into a routine.
Dear Gold's Gym, Speaking of routines… I dropped you like a hot potato this week and I'm sorry for that. We're going to try for 5:30 AM visits next week. How do you like them apples? (or, routines…)
Dear Alex, You get a second letter today because you need to know that this is the favorite part of my day: