My third trimester sure didn't come quietly in the middle of the night this past month. In fact, since we last discussed this pregnancy, so much has happened and it's actually a bit wild to look back on. What's even more wild? The fact that we're here, in the final, single digit weeks of this pregnancy. 
Health-wise, it's been up and down for me. Major exhaustion found a way right back into my life. I really thought I'd left it back there in that first trimester. My glucose screening came back fine, but with a warning that I was on the "high end" of normal blood sugar levels. They might as well have told me I had gestational diabetes because I've taken it very seriously. I want to do another screening because I'm certain I've lowered it! At the very same time, and not as surprising, I found out my red blood cell county was low. Not low enough to put me on iron pills, but low enough to be concerning. This one made sense. I've been looking mighty pale and feeling mighty tired recently. I think the red meat is helping. God bless a good steak. On the plus side, things seem to be looking up. We'll see next week when I head back to the docs.
The best thing I ever did in this pregnancy is start seeing a chiropractor again. I was to the point where I couldn't actually sleep because my entire spine was killing me. I've been going 2-3 times per week now for a month and what a difference it has made. I'm sleeping through the night and I have very minimal lower back pains. My neck still hurts, just not as bad. I think I need a few adjustments a day to fix my neck completely. Plus, I can tell a difference in my posture. So that makes me happy. Oh, also, she may have been able to help my baby turn head down (which he isn't going to be able to do easily because of the shape of my uterus). I'll know on Monday. I'm crossing my fingers…. I think I feel his butt up by my belly button and his feet kick my right ribcage. But, I can't figure out where his head is…. I'm praying it is down.
Let's see, what else. Oh! My baby shower. As many of you know, this little guy could easily come early (but every day he proves that theory wrong). So, I was showered perhaps a few weeks earlier than most. It was incredible and beautiful and just amazing. This kid is spoiled rotten and he's not even born yet. Lucky boy. I only wish I had more pictures to share with you all from my baby shower. It was a busy shower, you see. But I was able to share a little bit on Instagram here and here.
We've also been busy nesting. My OCD, Type A self started feeling rather anxious about our lackluster lists hanging out on our iPhones, scraps of paper, email chains…. it was driving me mad. So we sat down and listed it all. Every single thing we need to do before baby comes. Then, we highlighted it by what week we would get it done. And then, we made a new list that was divided by week. We should be all set to relax by early August. So far, we've knocked off things like installing a new kitchen faucet and new closet doors, updating doorknobs and fixing bathtubs. You know, the glamorous stuff. But it feels so good. The nursery is coming along, too. Little by little.
So the symptoms. Where to start? Braxton Hicks contractions are quite interesting. The other day I had them basically all day long. I texted Alex around 4:00 with a "I keep having contractions." message that scared him a little bit. They don't hurt, but they make my belly feel three times as heavy as it usually does. It's strange. Oh, heartburn is endless, although it's subsided a bit this week. Restless legs have picked up in the middle of the night. Oh. my. word. I hate them. The lack of air to my lungs is also a fun one. I have a feeling the Maryland swamp air quality and asthma aren't helping there. What else…. I could keep going but I don't want to scare anyone out of having babies.
All in all, I'm ready to meet our little boy. We've taken a few classes at our hospital this past month on breastfeeding and newborn care and c-sections (just in case)…. each time we leave the class, it starts to feel a bit more real. We also have our hospital route down to a science now. Eighteen to twenty-three minutes and we're at the parking garage. Good to know, right?
I feel very ready. So go ahead and laugh, but I do. On the natural, mental, non-consumer level, I am ready. I'm ready for everything that comes with this little guy, good and bad. I can't wait to hold him and look at every inch of him and watch his personality as it starts to develop. I can't wait to teach him and love him and try my best to do the right thing with him. We keep thinking back to how quick it all happened. How we went from "let's starting trying sometime soon" to "we're having a baby" in such a short time period. But, every single day we are reminded even more how absolutely right the timing is. And, on a very, very humble note, how incredible lucky we've been with him. He keeps defying the odds and we are amazed by our son.
But, as much as I am ready, he's got some fattening up to do. Best he stays put for another month or two.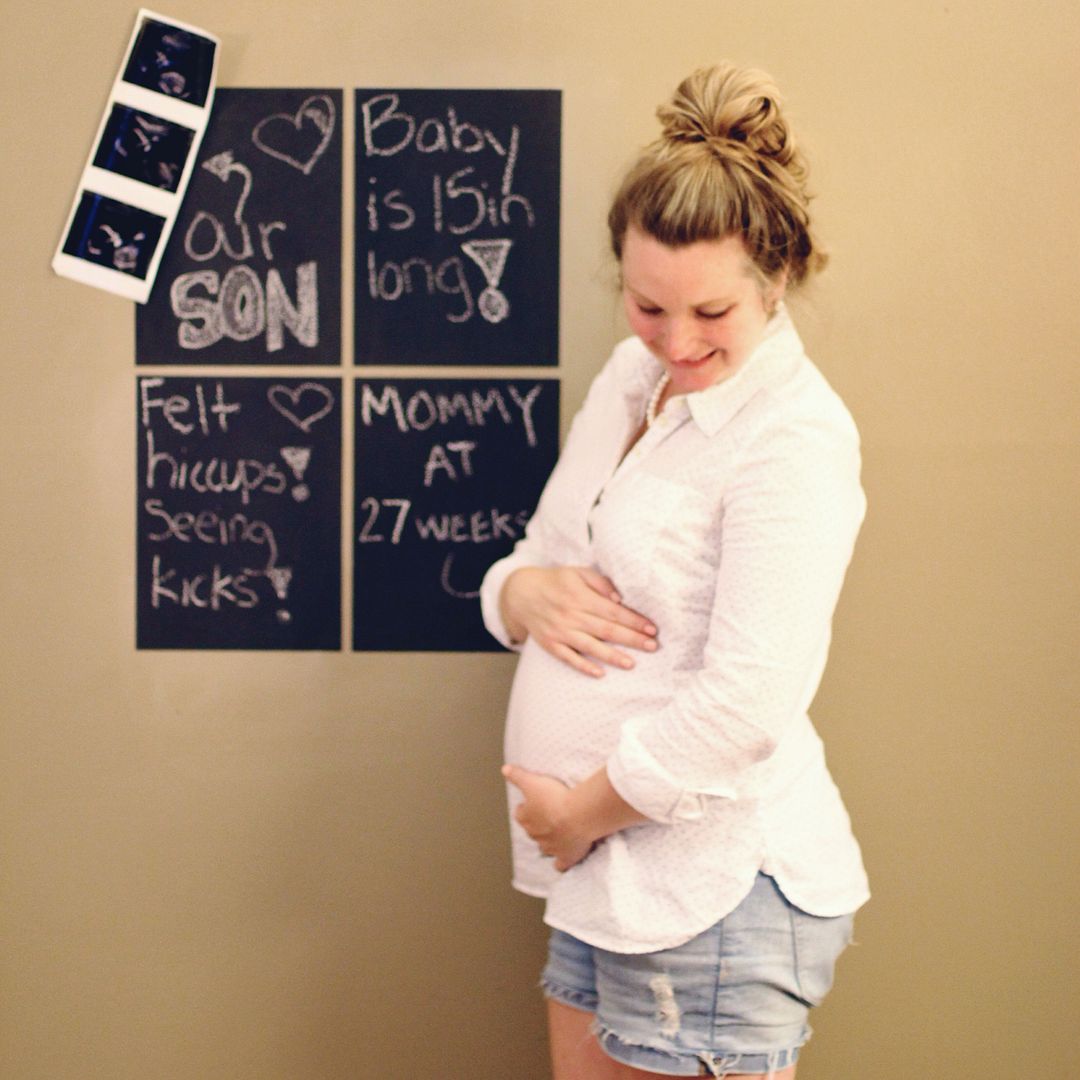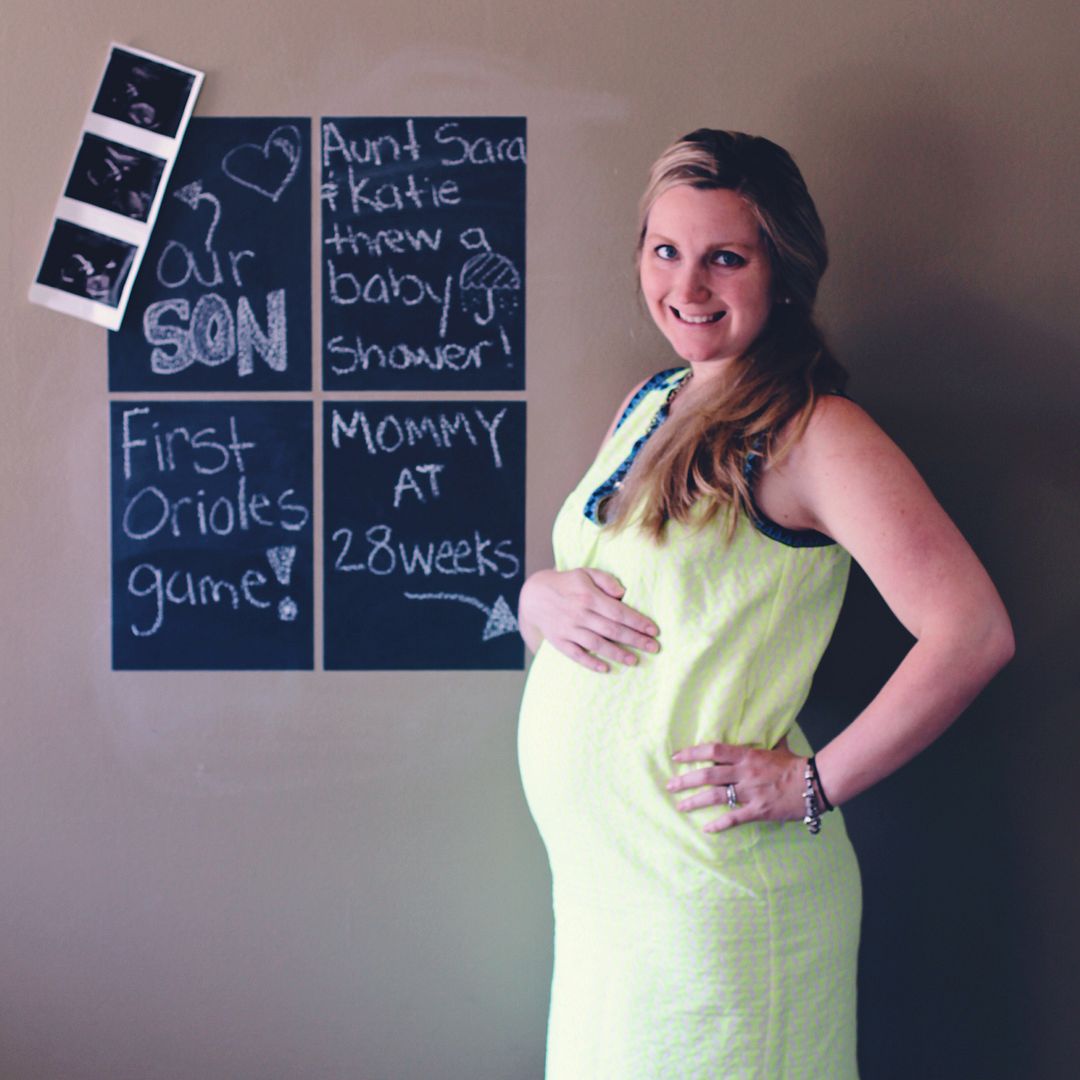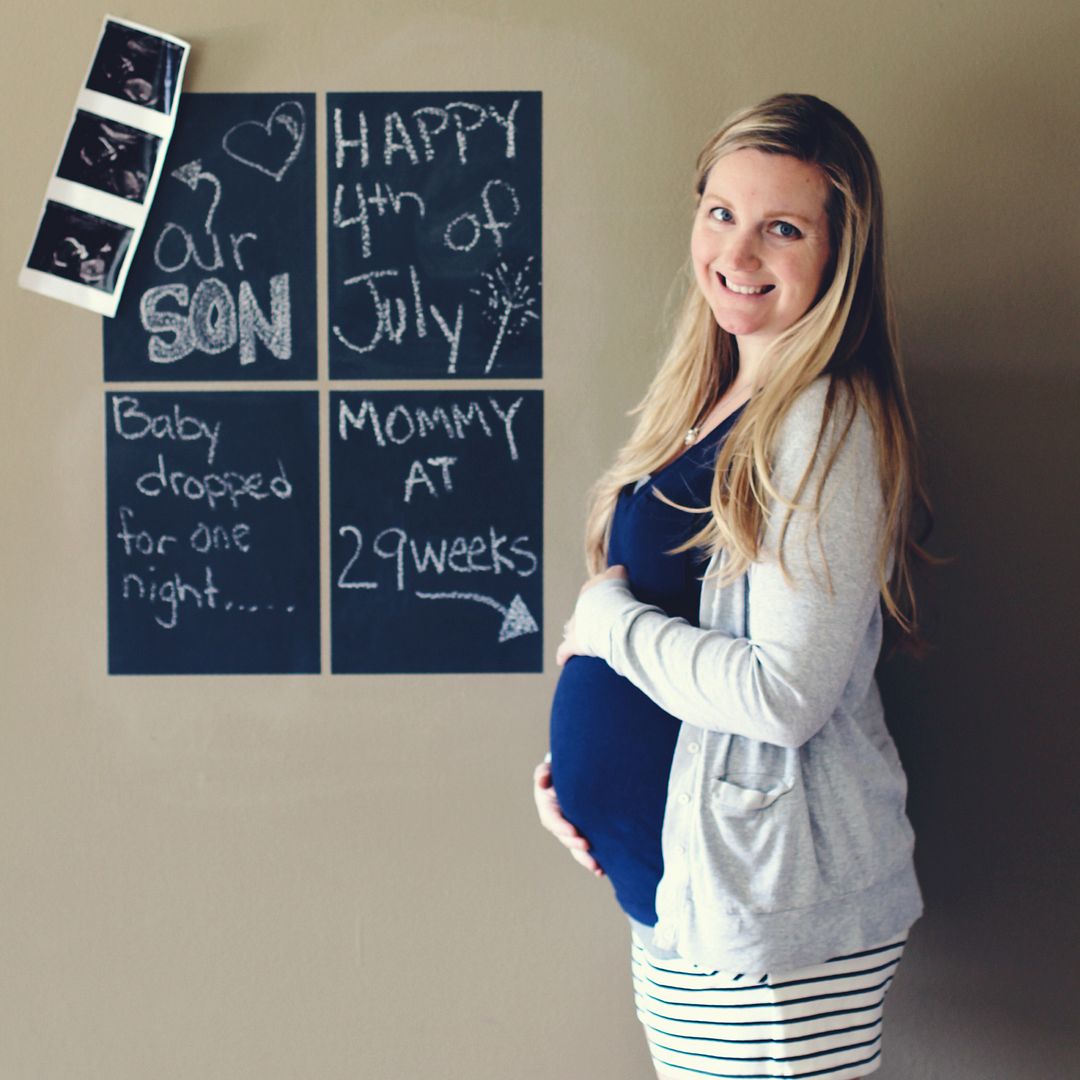 And the backlog, which is fascinating to look back on. I actually forgot what I looked like with a waist!
You can see weeks 8-14 here, weeks 15-18 here, weeks 19-22 here, and weeks 23-26 here. 
All of them in descending order? Just go here.