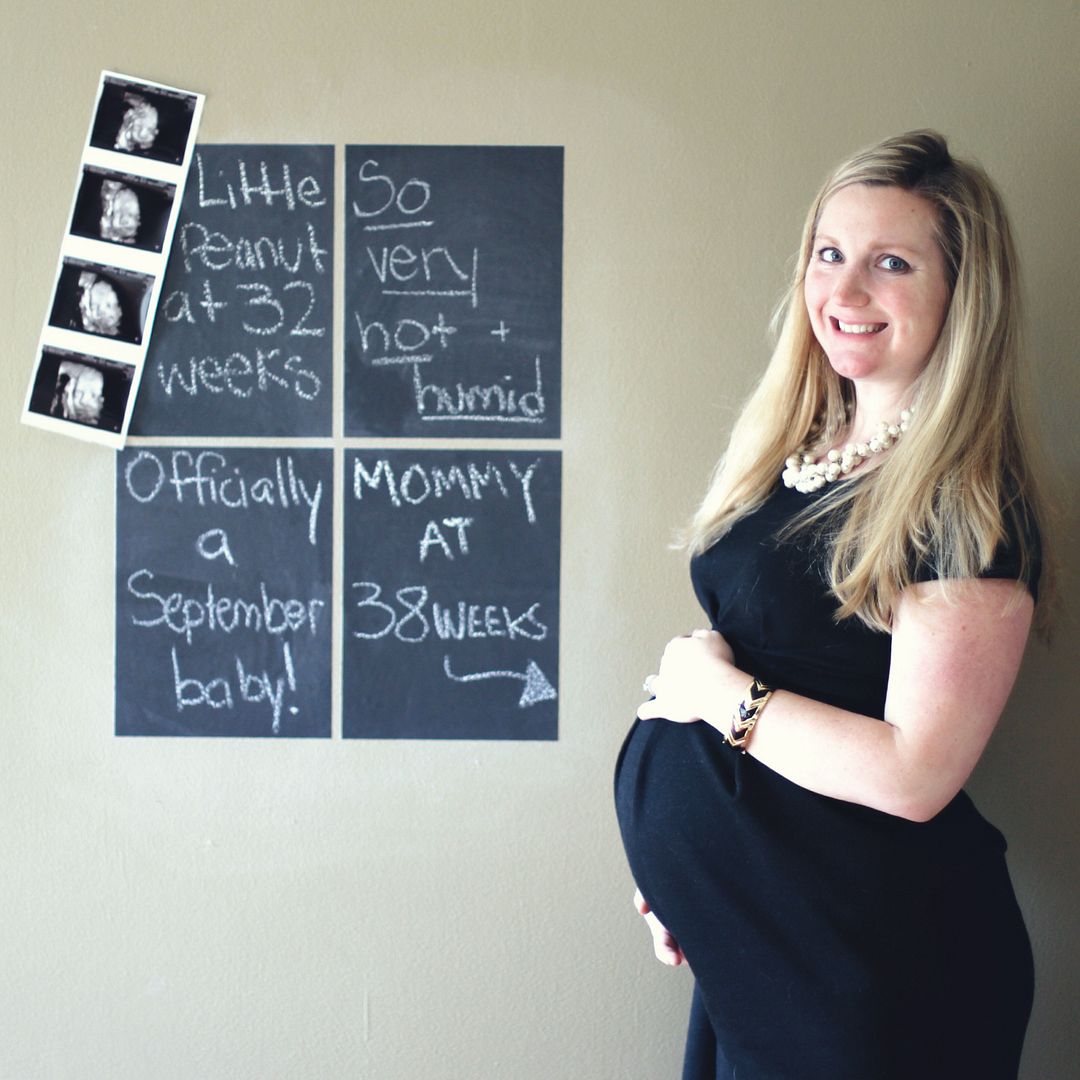 I really don't have many kind things to say about week 38. I've skirted by all summer with lower than average temperatures and humidity levels that are practically bearable. Until this past week. The heat and humidity hit the DC area with its' typical atrocity and I couldn't be more upset.
On top of feeling like my body just decided to absorb 5 pounds of water weight (which, it pretty much did according to the scale at today's appointment), there's this little head that is pushing my pelvic bone apart and it hurts.
Speaking of… it's also discouraging to find out progress has been zip, zero, zilch in two whole weeks. TWO WEEKS. Oh, but you know what I do get to hear each time? "Well, I can feel his head. You must be pretty uncomfortable." Ummm…. yes. My pelvic bone is making me uncomfortable. Understatement of the year.
But, now that I have the gripes and pains out of the way (I'll spare you the details, that list could go on and on), we can chat about other things from this past week.
Since it was incredibly too hot and humid to enjoy Labor Day weekend outside, we did a ton around the house. I'm not sure if it is my nesting energy or if I was just happy to have an extra day to do things like clean our area rugs and scrub ceilings. You can decide.
Also, big news! We always planned on turning our third bedroom into more of a "playroom/guest room" than the hodge podge it was and we completed it this weekend! I will have to share pictures with you. Call us yuppies, but we're hoping that by having a playroom, we can limit the mass of toys that can pile up around the house over the years. I mean, at least they will have a home, right?
So yes, let's go through the basics real quick. Still have an innie belly button. I gained a few pounds (oh, but the doctor said that out of all of the pregnant women he'd seen today, I was the lease swollen so YAY!). Umm… what else? I scheduled a hair appointment for Friday after work figuring it's a safe time to get that final piece of business taken care of. I'll probably treat myself to a pedicure this weekend, too.
When I think for too long about labor, I get anxious. It's just the whole part about not knowing anything except that it will be painful and hard. But when I think about labor for a short period of time, I am nothing be psyched and ready to experience birth.
Mostly, though, I'm just trying my best to learn how to be patient and relinquish control. I hear that's a big thing about being a parent, anyway, patience and losing control over your time. So, here we wait. My basketball baby and me.
The full moon's going to start pulling in a day or so….. we'll see if I make it through that…
You can see weeks 8-14 here, weeks 15-18 here, weeks 19-22 here, weeks 23-26 here, weeks 27-31 here, weeks 32-36 here, and week 37 here.