Because, yes, my baby is special enough to have his entrance to this world in trilogy format. Yes.
But also, because I devoured birth stories in my last weeks as a pregnant mama-to-be and I hope that I can be of nervewracking help to other expectant mamas with this birth story business.
So, before we move along, read part one and part two. Unless you are like me and always read the last page of the book before you even start it. In that case, continue on.
Well, after hearing that I was only 4 centimeters dilated at 3:00, I let my exhaustion take over. The contractions had, up until this point, been unbearably painful however I was surviving. Breathing is difficult when you are in that much pain, but you make it work because you have to. But, it's like my willpower gave out on me after Dr. Keith checked me. Or, as Alex said, the contractions just got more intense. Which they did. I still wasn't getting a break, but sitting there in that bed hooked up to my second dosage of penicillin and fluids, I went into my own hell. It wasn't even hell, though. It was almost like a void. Alex said this was the most difficult for him because all he could do was watch me. I didn't want help and I couldn't tell him how to help if I tried.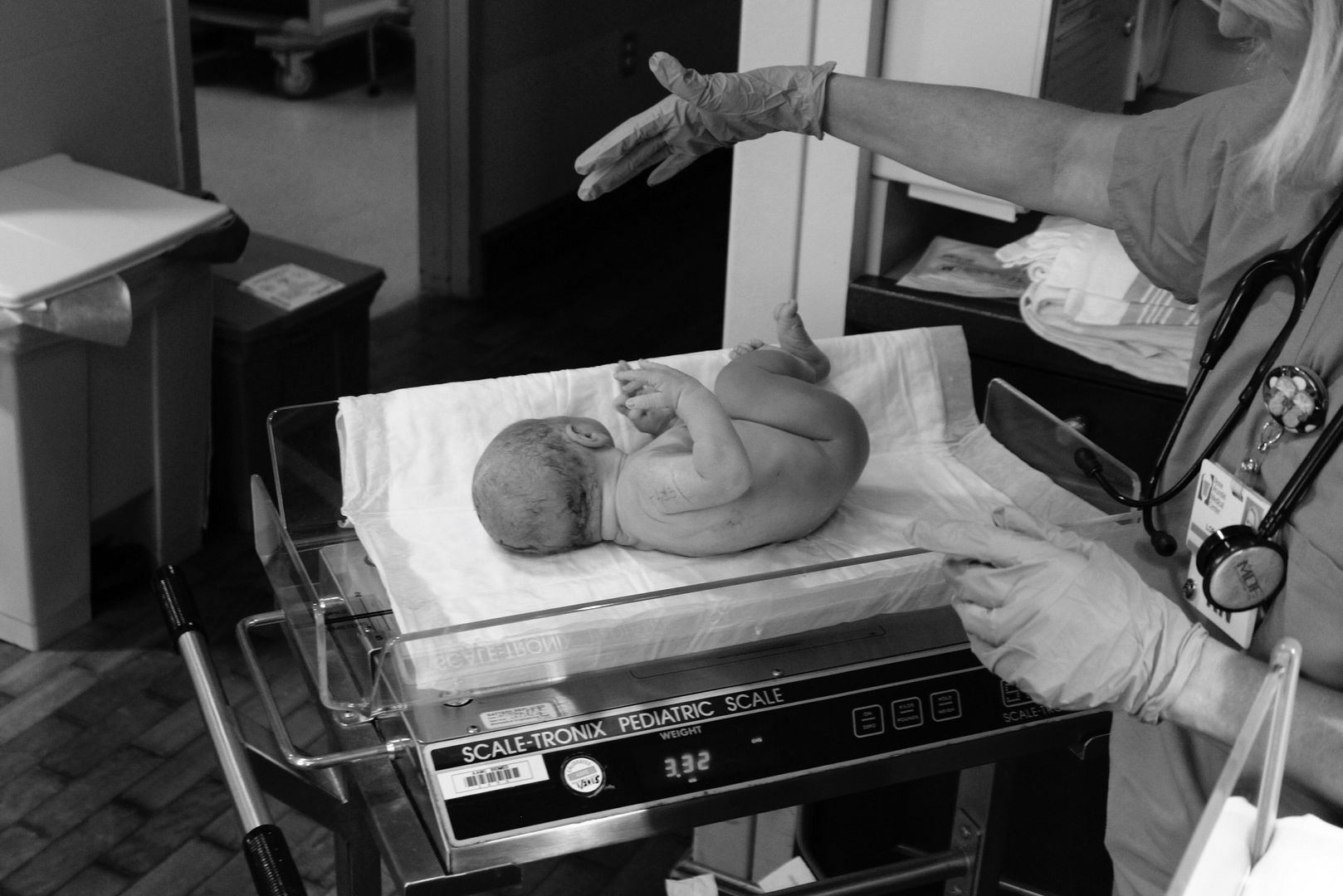 My only guess as to how the rest of my labor would go was my mom's stories. She had long labors. Twenty-four hour labors. I had a long way to go if I was going to be like her. And, as terrified as I was at having an epidural…. the pain, the catheter, the simple idea of it…. there was no way I could labor for another twenty hours like this. I mumbled out to Alex to call our nurse, Michelle. I wanted to talk to her about pain management.
She gave me this story about how most women say the IV hurts more than the epidural. I disagree (and I told her so when I got my epidural). I will admit, however, that the pain and discomfort of the epidural was nothing compared to the contractions. Nothing. My epidural experience was a smooth one. They sat me on the edge of the bed, which, believe it or not, was nearly impossible between the weight of my baby, the monitors wrapped around me, the pain of the contractions, and the awkwardness of hospital beds. Alex sat in a chair to my side and Michelle stood facing me. She had me hold her shoulders, I dug my head into her chest and wrapped my knees around her legs. I met her hours ago, but I was gripping her like she was my mother. She helped me breathe through the contractions and the anesthesiologist poked me with the numbing needle. Now, my friends, that hurt. Low toned moaning pain, which is worse than "OUCH" pain. The good news, friends, is that the epidural itself was barely even "OUCH" pain thanks to that lidocaine shot. The biggest stress of the epidural was that I was heading to a peak of a contraction as they put in the epidural and you. can't. move. I was screaming to them so hard about how they better do it right then or I wouldn't be able to stay still. And in it went.

Apparently they always end up that way- right as you are heading up to a big, awful contraction, those suckers are put in your spine.
Michelle propped me up on my right side, turned the lights out and left to let us sleep. Alex fell right to sleep in the little makeshift bed/ couch they have for the dads. I couldn't sleep, just sat there with my mind swarming with excitement. Plus, that stupid blood pressure monitor kept squeezing my arm every five minutes…. you try sleeping with a blood pressure monitor on! By the time I calmed down enough to possibly get some shuteye, I could hear commotion in the room next to ours. It was about 5:00 and I relished in listening to the sounds of this little baby girl being born just a few yards away from me.
Michelle came back a little after 6:00 to turn me to the other side. I asked how we were doing and she said baby and me looked great. Then, she left. Except she came back maybe five minutes later to check my progress.
"You're ready to push!"
Excuse me, what?
"Yeah! His head is right there. It's time to push!"
Apparently I'd gone from 4 centimeters to 10 centimeters in about two/ three hours.
So she left to grab Dr. Keith and I shouted over at Alex who was enjoying his two hours of rest. "ALEX!!! WAKE UP!!! IT'S TIME! IT'S TIME TO PUSH! WE'RE GOING TO MEET OUR BABY!" His first reaction was how long did I sleep for?
Dr. Keith came back in and they set me up to start pushing. I still had no pressure, no urge to push… I was only a couple of hours into my epidural. They shared with me how glad they were that I got the epidural because of how fast and strong my contractions had become. And, with that, we got to work.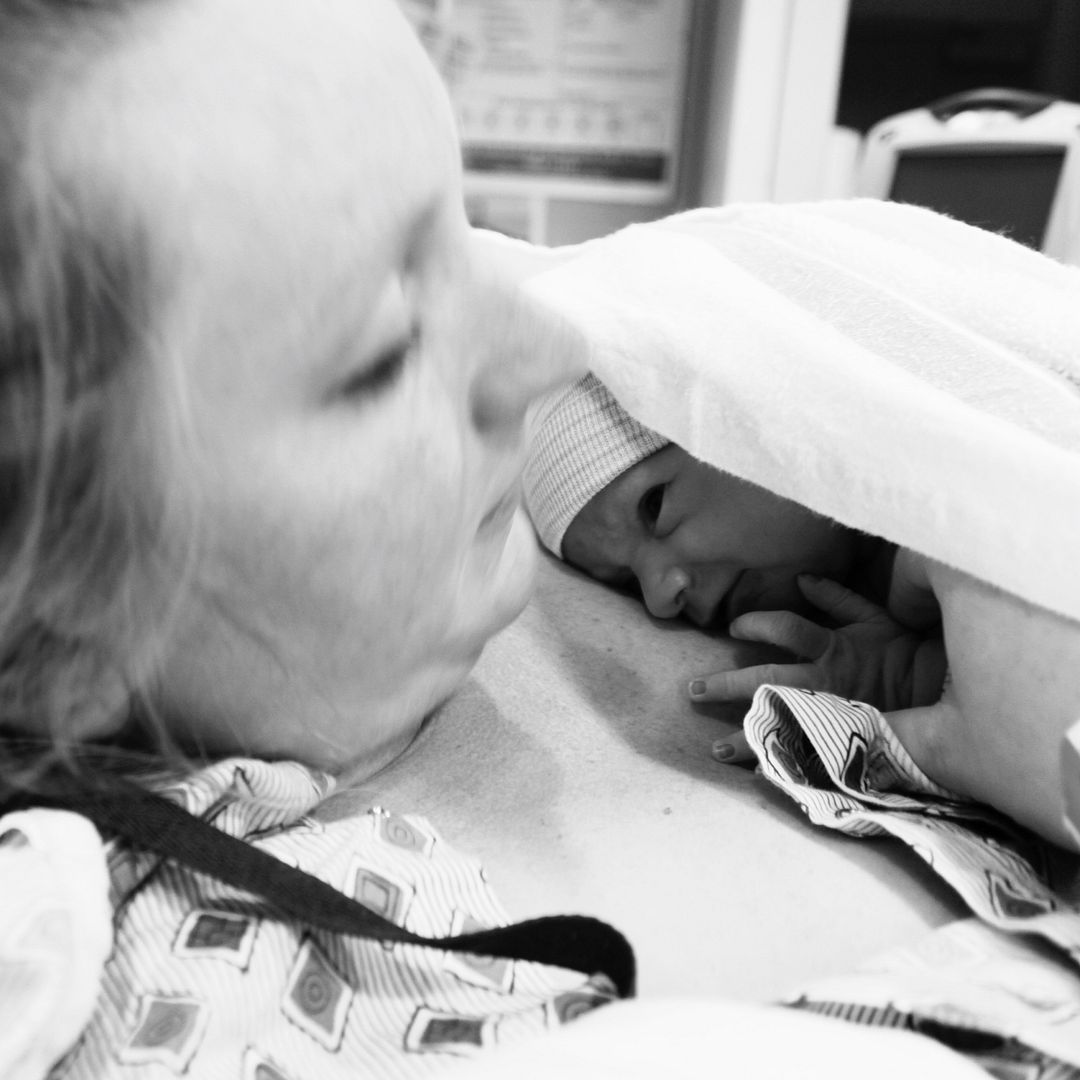 Pushing was such a memorable part for me. It was starting to get light outside, and inside it was just me, Alex, Dr. Keith and Michelle. Michelle and Alex held my hands and Michelle coached me through each contraction. Each time I would take a deep breath and then push to the count of ten three times through the contraction. In between contractions I asked Michelle about herself, we chatted with Dr. Keith about her baby boy at home, and we laughed about naming babies.
The nursing shift changed at 7:00 and so we told Michelle we were sad that she wouldn't be there for Max's delivery. But, to all of our surprise, 7:00 came and it was time for Dr. Keith to suit up in her gear and they called NICU in because there was meconium (Max had pooped in utero) and he would need to be checked out. They kept talking about how he had lots of hair and Alex kept looking over and seeing his head. I knew I was close to the end.
A few minutes later, with both the nightime and morning NICU staff, both Michelle and our morning nurse, Lori, I pushed real big and I immediately could tell that was my delivery push. Even with the epidural, I felt a huge sense of relief and release all at once and he was born. Out he came in that one, huge push, shoulders and all.
They had to take him to the other side of the room, under the warmers, immediately since he had pooped on himself. So Alex didn't get to cut the cord, Dr. Keith did (Alex was able to cut a ceremonial cutting once Max was stable). But, then he went over and watched everything as he got cleaned up while I kept at whatever I had to do.
I was so distracted by trying to see my baby on the other side of the room that I really didn't pay attention to the delivery of the afterbirth. I think I remember pushing when she told me to and out it came, but maybe not. Then, she had to stitch me up because pushing for thirty minutes doesn't come without a few tears I found out. Three tears, to be exact. I would get the epidural all over again just so I could live through the stitching up of my tears. Yikes. Those made recovery not very fun.
Alex was snapping pictures with my camera the entire time and bringing the camera over for me to see. Finally, probably five or ten minutes later, they brought Max over and I held him right on my chest. I can't even begin to describe how that felt. I just held him tight and kissed him and talked to him. I could've stayed there forever with my new baby.
And, oh, those cell phones of ours. Alex sent out a quick photo and a text message to our immediate family with what battery life he had left and we waited for my brother and his fiance to arrive with a charger so we could spread our happy news even further.
Max tipped the scales at 7 pounds, 5 ounces and 20 inches long. Happy, healthy, perfect, beautiful. And, as Alex told me, "You did good."
I think I did. Yes, I think I did.