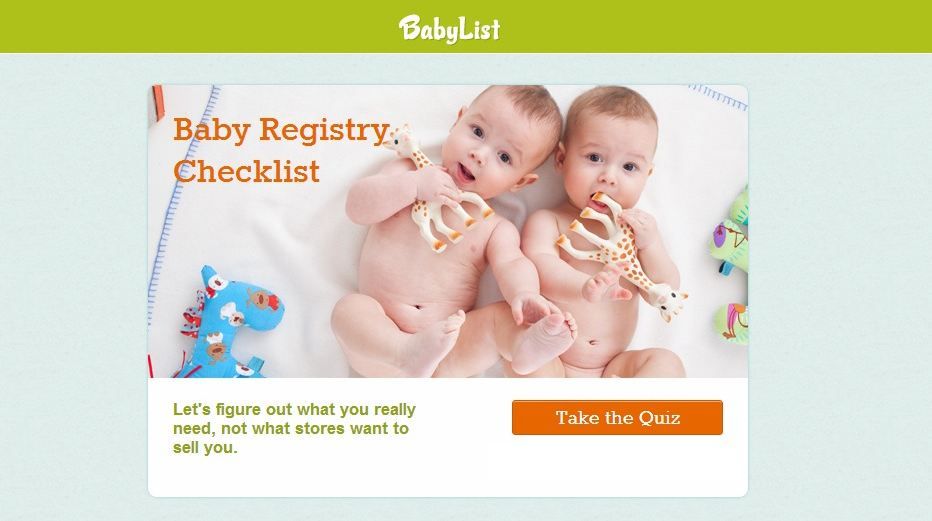 Well, I need to start by telling you that this is nothing more than a pure, unsolicited review. Because I'm about to rave about a website and you are going to think I was paid to say these things. Nope. I just had such a good experience that I wanted to share the love.
Also, since I clearly don't have a baby yet, this isn't any sort of "what to put on your baby registry" post because, let's face it, I will have no idea if anything we registered for turned out to be beneficial until this little dude actually arrives.
Anyway, now that we have the disclaimers out of the way, let's talk BabyList Registry. This website is excellent. Amazing user experience.
So, to absolutely no surprise of anyone who knows me, I started researching what we would need for baby early on. Starting with the basics (carseats, cribs, strollers), I began reading consumer reviews, product recalls, comparison trackers… you name it. It all goes back to my theory that it's better to buy something right the first time then have to replace a mediocre product later on. Saves you money. (Case in point, every single pair of Frye boots I've owned since forever ago. But that's another story for a another day.)
Okay, so, once we safely made it into the second trimester, I bought a diaper bag to celebrate. This diaper bag (and even though I haven't used it yet, I will recommend it just because it's so lovely in person). Either way, that set the gears in motion for realizing babies need things and we'd ultimately need to put together a baby registry. The problem? Babies R Us and Target are really the only standard baby registry stores in Annapolis and I wasn't completely thrilled with either of their selections on the other side of my 3 month research study on baby products (remember? see above). Plus some things we had chosen weren't available in big box stores at all.
We thought about Amazon, but what if people wanted to visit a real store? That didn't seem fair. And then I came across BabyList Registry. Which is essentially Pinterest for baby shopping. Seriously. They've got their little bookmarklet and you just pin (errrr, add) things to your registry from anywhere on the internet. Then, they'll add comparison prices from other stores. So when someone picks an item, they can see options for where to buy the gift from.
Sidenote: I love the bookmarklet feature. I can't tell you how many times I have been out shopping, found an item that I knew I wanted to get a bride or a mom from their registry, but then felt torn because I was in the wrong store. It's made me think "Can't I just call Bed Bath and Beyond and tell them this item has been bought at Target?" I guess it doesn't actually work that way, though.
Except at BabyList! Because BabyList allows you to reserve and item and buy it from wherever. I mean, think about how nice that is. I even got hand-me-down gifts and Craigslist gifts that people were able to reserve from our registry. Call me weird, but that made me so happy. 
So back to the fun little bookmarklet. It's also an app. So you can pin (errr, add) items to your registry from your phone. Much more productive than pinning recipes you'll never use, wouldn't you say? You can also browse their catalog, inspiration registries (there's even an Ikea inspired Scandinavian registry), and order registry insert cards.
They also give you space to write a little note for people to read. And, oh, get this, space to leave a little note on each and every item you register for. That includes other registries (we didn't register anywhere else, but you can link your big box registry right to BabyList).
A perk we were concerned we'd miss out on was the completion discount programs. Have no fear, we actually got discount codes from several places using BabyList.
At the end of the day, we ended up very happy with the whole registry process. We browsed the big boxes for items whenever we went out. Still, to be honest, most of what we ended up registering for was based off of recommendations from friends and colleagues.
Anyway, if you are in the market for a baby registry, definitely consider BabyList. I've had several instances where I've actually corresponded with the real people behind the website (different reasons, all with positive outcomes) and that's just so nice, isn't it? I am so tired of the automated telephone service world we live in these days. Real people rock.